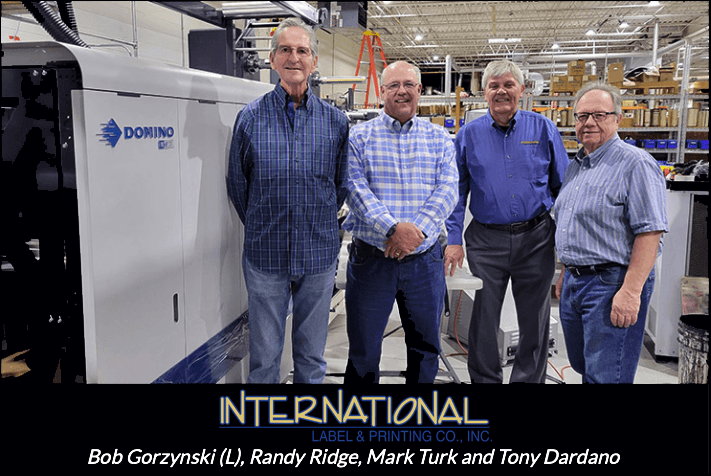 FEATURES
Narrow Web Profile: International Label & Printing Co.
Three partners have elevated this 90-plus year-old label company with hard work and a digital touch.
Greg Hrinya, Editor Label & Narrow Web  11/14/22
 
2550 United Lane, Elk Grove Village, IL USA 60007
www.internationallabel.com

After a successful career with the Chicago Sun-Times, three partners joined forces to embark on a new career path. Deciding they wanted to go into business for themselves, Tony Dardano, Bob Gorzynski and Mark Turk began searching for an investment. However, labels and packaging were not originally on their radar. Through hard work and dedication, the triumvirate has elevated International Label & Printing Co. to one of the label industry's most recognized converters.

Success did not come overnight, though. While working at the Chicago-based newspaper, the three partners began to see turmoil and turnover in the upper ranks of the company. The time was right for something new.

Dardano, Gorzynski and Turk hired a business broker and began the exploratory process of finding a business. They did not seek out labels, but Turk boasted some experience with flexographic printing. During his days with the Chicago Sun-Times, Turk was selected to a task force to explore moving the company's printing operations from letterpress to a new technology. While offset made the most sense, he began learning about flexography.

"We were not seeking the label and packaging industry," states Dardano. "We were seeking a company that could support the three of our families."

The group's search led them to International Label & Printing Co., a small label converter with a big history. Holocaust survivors Henry Gans and his wife, Erna, purchased the company shortly after emigrating to the United States from war-torn Europe in the late 1940s. Henry ran the label printing business while Erna, a sociology professor at Loyola University, served as an activist in Illinois. In fact, she was instrumental in the foundation of the Holocaust Memorial Foundation of Illinois, serving as president until her passing in 1999.

Henry had passed several years earlier, and Erna decided she no longer wanted to run the label shop. Enter Dardano, Gorzynski and Turk. "I didn't know a thing about labels back then, but the industry utilized flexographic equipment," explains Turk. "I had just come off a task force at the paper exploring flexo printing, and I thought some of the merits of the technology were pretty good. That's kind of how this all evolved."

The three partners purchased International Label in 1993. They needed to learn the ins and outs of a new industry – complete with everything from equipment investments and customer procurement to making payroll in a given week.
"There were a lot of sleepless nights," notes Gorzynski. "We were worried how we were going to make payroll, just hoping a check would come in. We had a couple of fairly large accounts, one making labels for bakery goods. I would go over and pick up the purchase orders every day, so we knew it was a good day when they gave us some business.

"We also had great machinery starting out, the crème de la crème," Gorzynski adds, tongue-in-cheek. "We had an old 6-color Mark Andy 2100 and an even older 3-color Mark Andy 810 – as well as an even older 2-color offset press."

The group left the Chicago Sun-Times on good terms, too. Their relationship with the newspaper proved advantageous in International Label's early days. "We got some help from the folks at the paper, since they were looking for some materials to be printed," comments Turk. "Originally, they wanted us to print 4-over-4 color zip cards for the paper. We felt we needed some capacity, so we bought a 6-color Aquaflex 1306 BX press. Then we bought two units for the Aquaflex to make it an 8-color press. We had a lot of friends at the Sun-Times, and they thought highly of us. 

They helped get us in the door with a lot of different projects. They called us a lot, which was very helpful in those days."

In the company's early days, Dardano, Gorzynski and Turk had to wear many hats. For example, Gorzynski served as International Label's delivery driver during the day and then did the company's accounting at night. 

The hard work led to significant growth, which translated into increased investments. Throughout the years, International Label has prided itself on investing in equipment that provides the best quality for its customers' unique needs. Following the purchase of the Aquaflex and some restoration of the Mark Andy presses, International Label invested in a 13", 8-color Nilpeter 3300 FB in 2005 to handle a large soap and detergent account. Ironically, the account came from a partnership with Fort Dearborn.

"We started with the ability to print process color, and it was actually for that account," recalls Dardano. "That account was originally at Fort Dearborn, but Fort Dearborn did not do flexo printing at that time in 1994. The owners of Fort Dearborn knew we were printing flexo, and they didn't want to lose this big account. We went over and looked at the labels, thinking they were 3-color, but they were actually 6-color. We said we could print them and then came back here to our plant, and it turns out our anilox rollers were only 200-line chrome. We bought all new anilox rollers and new impression cylinders so that we could run this job, and we started running the work for them. Our claim to fame was helping Fort Dearborn get into flexography.

"That account was printing soaps for Sears, and soap is a dirty business," adds Dardano. "That account left Fort Dearborn but years later came back around to us, and that's why we bought the Nilpeter press. They quickly became our No. 1 account, and we needed a bigger machine because there were a lot more plate changes."
 
Early adopters
International Label's partnership with Nilpeter paved the way for a digital future – a place in which Turk initially had no interest.

"Digital printing was being talked about all through the 2000s,"  Turk recalls. "From what we saw of it, we thought it wasn't ready for the jobs we were doing, and I didn't think it would happen in my lifetime. We looked at the leading digital label presses at the time, but they didn't have any inline finishing. Then at Labelexpo in 2008, we saw Nilpeter had a flexo press with a box in the middle of it that printed four colors. They worked all the bugs out and came back to us, and we went and saw the press and it printed great. An operator pushes a button and out comes a label. People were certainly happy to get their labels quickly."

International Label entered the digital label printing arena in 2010, boasting the distinction of being the first label printer in North America to install the Nilpeter Caslon combination printing press.

"We started getting orders from a few startup breweries and wineries, and they were short runs with multiple SKUs," explains Dardano. "We were running them flexographically, but the jobs were tying up that flexo press. We thought that might be the time to go digital. That machine got us on the map, and we won awards with it – that put us on the next level. We were non-believers for a while before that." 

"That was our first foray into digital printing," adds Turk. "We didn't know anything about inkjet; we just knew that box was there and the label came out of that box. We learned a lot with that press, and by virtue of that we were able to take the next step."

The next step involved Domino, which is just a short drive from International Label's facility. Dardano, Gorzynski and Turk embarked on a quest for a digital solution that would solve International Label's pain points.

"The problem with digital then was none of the manufacturers had a white ink that would work," says Turk. "The ink was just too thick, and the nozzles were getting clogged. We kind of made due at that time, but then Tony had an account that wanted to serialize labels with sequential numbers. We were told at a tradeshow that the people you want to talk to are from Domino because that's what they do.

"When we visited Domino, they had just launched a digital label press," adds Turk. "They were doing white digital on their labels, and the quality looked great – like silk screen. We saw their demo unit, but they were going to take it out of service and put it in a crate in the warehouse. I said, 'Why don't you put it in a crate and bring it down to my shop?' They laughed, but then I got a phone call not long after and they made us a pretty good offer. We bought a roll-to-roll, 5-color Domino digital press in 2014."

International Label subsequently went against the grain, using the Caslon to perform off-line finishing for labels printed on the Domino N610i digital UV inkjet label press. "We were kind of going against our culture of inline there for a while," remarks Turk. "But that process saved our accounts and allowed us to not waste so much material."

The partnership has remained strong throughout the years. In 2017, International Label traded up to a CEI BossJet powered by Domino, which combines flexo and digital UV inkjet to provide customers with enhanced productivity, throughput and capacity.

"When something new comes out, they think of us and we collaborate," says Turk. "When it was time to get away from off-line finishing, they came to us with a solution. We went to Domino and they had a combination for us, and we went with CEI. That's when we got into true hybrid printing."
 
Industry stewards
International Label enjoyed a landmark year in 2015. Not only did the company invest in Domino's digital inkjet technology, but the three partners became significantly more involved in the label and package printing industry outside its own four walls. Around that time, International Label joined TLMI and FLAG, both of which have been extremely beneficial to the company.

"TLMI turned out to be a good move for us," explains Turk. "They have print awards every year, and so we entered as new members and we won one. We went to our first Annual Meeting, and it was very impressive. We've been hooked ever since, and now I'm on the Board of Directors. We've met a lot of good people who are friends to this day."

"We didn't know anybody in the industry before we joined TLMI," states Dardano. "We did our own thing and didn't really know many other printers at all. Now we have a network across the whole United States."

FLAG, the Flexo Label Advantage Group, has also been a worthy endeavor for International Label. "FLAG has been better than I ever expected," adds Turk. "In terms of what they do, they give you a check every quarter for showing up. They have done everything they said they were going to do. A lot of people have said that the FLAG Annual Meeting is the one show they don't want to miss. They sit down around a table and talk about a lot of production issues, but they really let their hair down. They shut the door and discuss pain points and how they've remedied certain things. John and JC (McKay) do a great job."

The power of association has also been evident with International Label. Through its partnership with FLAG, International Label was able to assist Marathon Label in Wausau, WI. In June of 2020, Chuck Keefe, president of Marathon Label, received a referral from an industry colleague. CFA Promotions, a promotional agency from Massachusetts, needed 400,000 hand sanitizer labels printed in the Chicago area for its customer Anvyl. The customer's need for an immediate turnaround required digital, and FLAG connected Keefe and Turk.

"Marathon needed us to print labels right away," recalls Turk. "They got us the art files on Monday and we printed the labels on Monday morning. Monday by noon we had labels for them, and it was all because of the connection. It really says a lot about what FLAG can do. And it's happened with TLMI, too. We've contacted fellow members about doing jobs we don't do and they've obliged. Our networks have been very helpful."

Inside International Label, the leadership team has strived to create that same type of atmosphere. Today, the company boasts 35 employees across 20,000 square feet of facility space – 5,000 of which is a wide format operation across the street in its Elk Grove Village location. Dardano serves as the executive vice president of sales and marketing, Gorzynski is the executive vice president and CFO, and Turk functions as the president and CEO. Randy Ridge, who has experience with the group from their Chicago Sun-Times days, joined the company in 2018 to manage technical services and was promoted to general manager in 2021.

"This is a great success story here," says Ridge. "They took the risk to go off and buy a company, and the company has continued to grow over the years. It's the American dream. They've always kept it as a family environment, too, and I think that's been good for the employees. Our turnover has always been low. You're always going to lose a few people here and there, but there are a lot of long-term employees here."

"We've worked hard to keep our employees," says Gorzynski.

"Our company culture is very important to us," Dardano states. "What followed Covid was this employee crisis that we're in. We've given out some pretty generous raises in the past year, and at one time we paid 50% of the employees' health insurance. We then went up to 75%, and now, in an effort to retain everybody, we pay 100% of the employees' health, dental and vision insurance. And, in addition, they each have a $15,000-life insurance policy as well."

A bright, digital future
With a focus on leading-edge technology and balancing the "high-tech" with the "high-touch," International Label has not rested on its laurels. The company has once again returned to Domino for a new hybrid printing press. International Label has installed the first hybrid press in North America featuring a partnership between Domino and Nilpeter.

"The thought was to go with this technology for the embellishments, especially for wine and spirits, and there's foil stamping and embossing capabilities inline on this machine," says Turk. "This is a sophisticated machine, so it's something else to offer our customers.

"Domino has been very good to us," adds Turk. "And the collaboration between the two companies has been pretty seamless. We knew Nilpeter was a formidable company when we first went to them, and over time we've been part of their family."

International Label required more capacity to service its customers in a wide range of applications. The company plays prominently in the food and beverage space, with an emphasis on wine and spirits. Its specialties extend to industrial, hardware, and the fast-growing cannabis market.

"We're excited about having this new machine from Domino and Nilpeter," concludes Gorzynski. "Once that gets fired up, which is pretty close, the future is really bright."