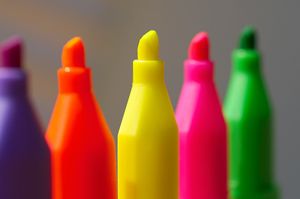 In working with us, you'll find that our company is not overly regimented. Everyone understands their role but is willing to help out wherever needed to see a job through. You'll never hear a member of our staff say, "that's not my job." Though we believe whole-heartedly in this open approach, it's necessary to separate our company into a few departments. Whether it's Customer Service or Production, it takes everyone we have to make our clients look their best. Here are basic overviews of our departments and their responsibilities.
Administrative/Accounting: Our behind-the-scenes support staff handles all of our administrative tasks such as accounting, company communications, training, and coordination of staff functions.
Management of receivables and payables
Staff motivation and performance reviews
Coordination of production scheduling and flow
Coordination of Quality Assurance
Enforcement of company policy and procedure
Coordination of scheduling and payroll
Coordination of employee hiring and training
Checking inventory and ordering supplies
Equipment purchasing
Bindery/Finishing Services: Our bindery/finishing services department handles everything from basic cutting, folding, drilling, rewinding, packaging to more elaborate mail preparation and booklet-making services. Our full range of bindery services allows every job we produce to go out the door ready for distribution. - Comprehensive understanding of various finishing machines -- folding, cutting, binding, laminating, booklet making, etc.
Collects samples for file management system
Quality Assurance
Customer Service: Our customer service staff is responsible for building strong relationships with our ever-expanding client base. We work on the front line to ensure that every estimate and order is handled professionally and meets the quality expectations of our clients.
Establish and build client relationships
Efficient order-taking and job analysis
Quality Assurance --final quality check
Coordination of files for accuracy in reordering
Pick-up and delivery
Delivery: We maintain a fleet of delivery vehicles which pick-up and deliver jobs within the metropolitan area. We have a variety of vehicles that can accommodate anything from skids of paper or just one box of labels. Our delivery staff is in constant communication with our delivery manager throughout the day, which allows us to respond to emergency needs. We also maintain alliances with major shipping vendors who can deliver your jobs to anywhere in the world at competitive prices.
Design Services: Our designers have extensive knowledge of all major computer page layout and graphic applications including InDesign, Illustrator, Publisher, and Photoshop. They create nearly every job we produce from concept to final proof and are experts at layout and composition.
Efficient creation of originals
Ability to accept files from all formats and work in a cross-platform environment
Thorough electronic archiving of client jobs
Awareness and implementation of new technologies
Familiarity with virtually all external storage devices
Provide clients with basic software technical support
Flexographic Printing: Our Flexography Department is second to none in its capabilities to deliver quality products, whether roll-to-roll or roll-to-sheet products, our multi-color presses can die-cut, varnish, laminate, score, or perforate to your specifications. We also produce pin-feed labels for shipping and office use. Our professional press-operators are masters at maintaining ink consistency and coverage, maintaining accuracy, and meeting tight deadlines.
Human Resources: We believe in our people. We take great care in hiring motivated professionals and provide them with extensive training and ongoing education. We attract superior talent by offering great benefits, first-class facilities, and state-of-the-art equipment.
Digital Printing: Capable of handling a wide range of sheet and roll sizes, our Digital Department specializes in UV-inkjet and toner-based printing of variable data, versioning, posters, signs, packaging, labels and other unique products up to 7 colors. Our professional press-operators are masters at maintaining ink consistency and coverage, maintaining accuracy, and meeting tight deadlines.
Offset Printing: We utilize technology and equipment to ensure that our printed products are of the highest quality. Our professional press-operators are masters at maintaining ink consistency and coverage, maintaining accuracy, and meeting tight deadlines.
Pre-Press: We maintain a state-of-the-art pre-press department using the latest software available on both Mac and PC platforms. We accept your files on a variety of media, as well as via email or FTP site. Our pre-press department is environmentally safe using only a minimum of chemicals.
We output to making photopolymer flexographic plates
Full color scanning and digital retouching
Can handle reflective art if not available digitally
Color digital press proofs are available